Tennis Ireland
Tennis Ireland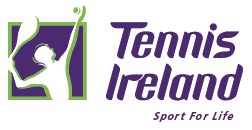 Tennis Ireland is the National Governing Body for the sport of tennis in Ireland. Founded in 1908…. With over 200 affiliated clubs ….. and 80,000+ members. Tennis Ireland stages events such as ….. The Shelbourne Men's Irish Open Championships, ITF Futures events…. The Fed Cup and The Davis Cup. It also operates a variety of development programmes on both a national and provincial level, for both senior and junior elite players.
Visit the Tennis Ireland website here >>
Coaching Videos
Coaching Videos:
Serving – Basic
Serving – Topspin
Forehand – Basic
Forehand – Topspin
Backhand – Double
Backhand – Single
Volley – Forehand
Volley – Backhand
Smash
International Tennis Federation Website
History of Tennis Ireland
The History of Irish Tennis by Tom Higgins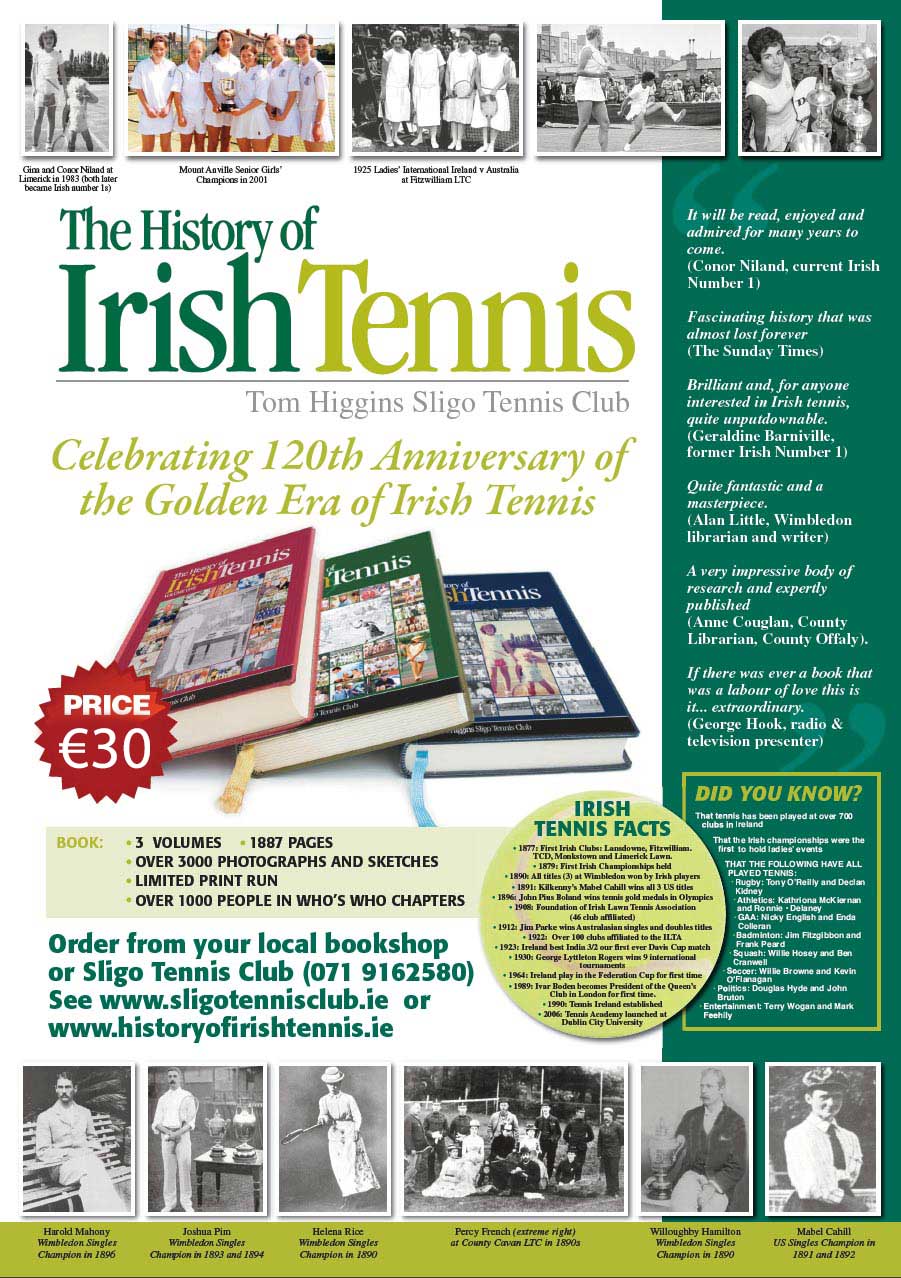 The History of Irish Tennis by Tom Higgins of Sligo Tennis Club, is the most comprehensive and fascinating book ever written on Irish Tennis. It is spread over three volumes and has taken over 7 years to produce.
With over 1800 pages, this hard back A4, limited edition, contains 42 chapters and sub chapters, over 3000 photographs and illustrations and is probably the most comprehensive book ever written on any nations tennis history.
For a country consumed by its past, sport has been poorly served by historians, aside from a handful of exceptions. Higgins joins those few. His books have given Irish tennis an opportunity to reclaim a fascinating history that was almost lost forever. He has done the sport a service.
The Sunday Times
…this extraordinary work weaves together the evolution of the country's clubs and tournaments, with changes in clothing, equipment and social history over more than a century……..If you have been involved in Irish tennis, you are almost certainly mentioned in this extraordinary book. An absorbing read for tennis lovers everywhere.
Richard Jones (ACE magazine)
The three volumes on the 'History of Irish Tennis' are quite fantastic and a great testimonial. A masterpiece for which Irish Tennis should always be grateful!
Alan Little (Wimbledon Lawn Tennis Museum)
Incredible….beautifully produced…looks like a life long labour of love….. gorgeous production….great photographs.
Joe Duffy, Liveline RTE 1
The History of Irish Tennis is available from the following outlets *:
Tom Higgins [087 6782193]
Sligo Tennis Club [contact Conor 087 1174702]
Pat Hough, Hough Racquet Sports, Nenagh. [Contact Pat 087 4396556]
Lyn Jamison, Lisburn TC. [028 38333806]
Fitzwilliam LTC [Contact General Manager Peter Moran]
Unique Boutique, Ballymahon Street Longford [Contact Paul Higgins 087 9545384]
Castle Bookshop, Castle Street, Castlebar [Contact Catherine or David 094 9024422]
Hugh Lane Gallery, Parnell Square North, Dublin 1 [Contact David Cassidy 086 2401192]
Manor Books, Church Road, Malahide, County Dublin
Chapters bookstore, Ivy Exchange, Parnell Street, Dublin 1.
Liber Bookshop, O'Connell St., Sligo. [contact Brian Caliendo]
The Book Store, Waterford
*list is correct at time of publication