Tennis Resources
Tennis Ireland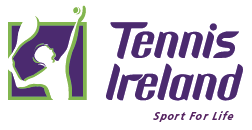 Tennis Ireland is the National Governing Body for the sport of tennis in Ireland. Founded in 1908…. With over 200 affiliated clubs ….. and 80,000+ members. Tennis Ireland stages events such as ….. The Shelbourne Men's Irish Open Championships, ITF Futures events…. The Fed Cup and The Davis Cup. It also operates a variety of development programmes on both a national and provincial level, for both senior and junior elite players.
Visit the Tennis Ireland website here >>
History of Tennis Ireland
Tennis Ireland celebrated its 100th birthday in 2008. Download the commemorative compilation PDF here (3.6Mb).
Coaching Videos:
Serving – Basic
Serving – Topspin
Forehand – Basic
Forehand – Topspin
Backhand – Double
Backhand – Single
Volley – Forehand
Volley – Backhand
Smash