Tennis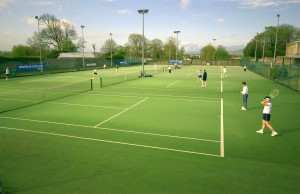 Welcome to the Tennis Section of Sligo Tennis Club. We have 6 Outdoor Floodlit 'Omni' Tennis Courts, and the tennis season runs all year round. Courts can be booked by all club members using the on-line 'Ace-book' System, from 3 days in advance. Click here for Booking Tennis. Booking costs are €1.25/half-hour, Monday – Friday and €1.25/hour Saturday & Sunday. Floodlights are switched on by putting €1 coins in the 'Tennis Court Lights' boxes, located indoors beside the squash courts. The cost of floodlights is €1/15 mins.
Court availability is at its greatest at the weekends so along with half price court booking costs, weekends are always a good option to organise games!
Apart from members organising their own games, there are many competitions and events for adults and juniors, including Weekly Club Night Doubles, Friday Night Mixed Doubles, Bank Holiday Mixed Doubles, Singles Ladders, West of Ireland Open and Club Championships. Click here for more information on Tennis Competitions and Club Events. A Calendar of Events is published at the beginning of each year, which is available at the Tennis Club Reception, and available to download at Tennis Calendar.
Sligo Tennis Club are lucky to have talented coaches Matthew McGann (Head Coach) & Scott Hubbard as Club Coaches. Matthew and Scott are available different days and can be contacted directly at 089 4996141 to arrange coaching. Individual and group coaching is available. Click here for more information about Tennis Coaching and Tennis Junior Coaching.
The Tennis Section of Sligo Tennis Club is organised by the Tennis Committee. The current Tennis Captain is Emer Concannon. Emer can be contacted at 087 9681776.
Check out our Latest News below, and then explore the rest of the tennis area in the menu above. We have top video tips in Resources, International Tennis Federation Rules under Rules of Tennis, interesting reading under History of Tennis.
Now all you have to do is play! Enjoy!