Annual Club Social
Tennis and Badminton Event Presentations…
The Club lounge was lively on the night of 27th Feb as live music, hearty food and a jubilant atmosphere all combined for a great night.
While the evening was still young, presentations were done by the Tennis Section for the Reddy Architecture Summer Ladder and the Wehrlys Autumn League. The Badminton Section followed suit and presented the Addams Fashions Team Event prizes. Thanks must go to the Tennis Committee for organizing this event.
Winners of the Autumn League…
L-R: Barry Egan, Frank Armstrong, Eimear Healy, Mel McKeown (Captain), Ann McKiernan, Alice McNassor, Liam Farrell
(See Sligo Tennis Facebook page for more photos)
Tennis Notes
The Tennis Spring League is underway with 36 players involved and runs till early April. Mixed doubles has been introduced into the mix for this league.
Stephen and Christy attended a Tennis Ireland Club Development seminar in Dublin during February. They came back with plenty of food for thought. Watch this space for implementation of some of their suggestions for Club development.
Tennis AGM on 9th March. What a year for the outgoing committee with bustling Club nights, an array of Club events and the implementation of online court booking (Acebook). We look forward to an exciting year ahead and best of luck to the new tennis committee and incoming Captain Micheal Walsh.
Badminton Notes
The Addams Fashions Team Event was held throughout January and February on the badminton's Tuesday and Thursday club nights.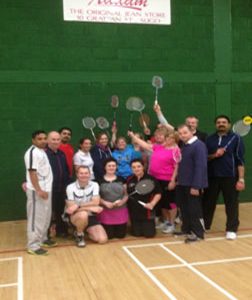 Four, evenly matches teams captained by Jeff Kay, Paula Nairn, Marie Gallagher and Eimear Healy, took part in a series of round robin matches and semifinal ties. The event culminated in a finals night on Saturday 27th February; just in time for the Club Social which provided the perfect stage to present the prizes and acknowledge the event sponsor – Addams Fashions.
Finalists of Addams Team Event:
Standing L-R: Saintosh, Brian Maguire, Bibin, Karen Hayes, Karen O'Connor, Tracey McDonagh, Eimear Healy, Marie Gallagher, Jeff Kay, Paula Nairn, Robert Porter, Stephen Cunningham, Surgesh. Front L-R: Graeme Watt, Orlaith Lowry, Rebecca Magillen.
All are welcome to join in badminton Club nights on Tuesdays and Thursdays from 8pm.
Squash Notes
After 8 rounds of the Connacht League Sligo squash are looking good to qualify for the semi-finals of the league for the first time. We are due to play Galway on Monday night followed by a crunch home fixture against Ballinrobe at home on Tuesday 8th March.
The team has been boosted this year by the return of former junior international Stephen Quigley to competitive action following a 3 year break and backboned by the ever young John Kielty, Conor Caheny and Patrick Quinn. The team has had great results to date against Ballina, Westport and Ballinrobe. Unfortunately due to study and work pressures we have been unable to field Patrick and Conor on the same team to date and we have also been without the services of Garreth Blake who is working abroad. With a little luck we can qualify for the semi-finals where we are likely to come across the perennial winners of the event, Galway. However, if we can field our strongest team on the night we have every chance of upsetting the current champions and get to our first ever A final.
The finals of the event are due to be held in Sligo on Easter Saturday 26th March so do come down for an exciting afternoon of high quality squash.
Volunteering
Volunteers for Club activities (no matter how small) are always welcome – contact any committee member or Conor Gormley. It doesn't have to be as adventurous as the recent volunteering exploits of John Kelly and Padraig Hackett, as seen in this photo. It could be as simple as keeping a notice-board tidy; a spot of painting and there is never any shortage of light maintenance around the Club.
Club Dates For the Diary
Wednesday 6th April 9pm; STC AGM
31st March, 7th & 14th April; Badminton Club Championships
Saturday 26th March; Squash Connacht League Finals
Competition Time
Return this section to Club office FAO Graeme Watt by 15th April 2016
Name: ______________________________Contact #: ___________________________
Answer the following 3 questions…
1. Which number most closely reflects the number of tennis balls used per year in the Wimbledon Championships?
a. 54,000
b. 16,000
c. 36,000
2. The fastest recorded speed of a badminton shuttle is:
a. 156 mph
b. 281 mph
c. 206 mph
3. Name the surprise ticket who won the 2012 Men's Doubles title at the 2012 Wimbledon Championships (Clue: Obviously 2 people won this title but the answer is the one who has signed a STC t-shirt, which is displayed somewhere in the Club!!)
Answer: ______________________________________________________
4. Give one suggestion for increasing STC membership numbers and/or promotion of the Club:
____________________________________________________________________________________________________________________________________________________________________________________________________________________________________________________________________________________________________________________________________________________________________________________________________________________________________________________________________________________________________________________________________________________________________________________________________________________________________________________________________________________________________________________________